Structured cabling
We pride ourselves on delivering high standards of workmanship and have an experienced team of in house engineers that will deliver your project / installation. Our aim is to build and develop relationships with our clients that are as reliable as the infrastructures we provide.
Structured cabling
Precision Cabling Services are able to support projects and companies across the UK and have already established a strong client base throughout London, Essex, Kent, Suffolk, Cambridgeshire, Bedfordshire, Hertfordshire and Sussex. We continue to develop and create business opportunities with clients ranging from Blue Chip organisations to private individuals. We believe this is based upon our honest approach and willingness to exceed your expectations.
Structured Cabling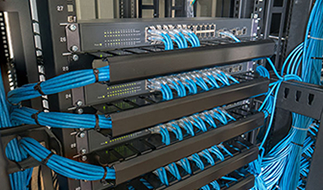 Structured Network Cabling
Cat5e and Cat 6 can be used to link and manage devices within a network all the way from Cabinets to the end device. This also covers Telephone Cabling and Voip cabling, a cable patching and patch panel installations will be done to complete a managed and structured cabling system.
Fibre Optics
MM/SM Fibre optic installation
Splicing
Blown fibre
Full Containment solutions
External Cabling
CCTV
Analogue Cameras
IP Cameras
Internal / External
Server Integrated
DVR / NVR systems
Maintenance
What is a Softphone
A VoIP softphone is a program that installs to and runs from your computer. A VoIP softphone enables you to make calls with just your computer using a VoIP service.
Electrical Installations
Single & 3 Phase / AC & DC
PDUs / Sub-PDUs
Grounding & Bonding
UPS systems
Containment systems
PAT testing
You wish to order! or have more questions?
Please call us on +44 (0) 20 3358 0070
WE WORK WITH SOME GREAT COMPANIES